1-2-1 Video Call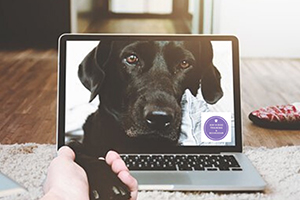 Unable to physically get to a location to meet Kay? Why not opt in for a 1-2-1 Video Call session instead?  Kay offers personal appointments via Zoom, Facebook Messenger and WhatsApp for anyone that needs support. These types of appointments  are perfect for new puppy owners that have busy lifestyles. We discussing toilet training, sleeping arrangements, feeding routines, learning to be  independent, mouthing, jumping up, basic training and where to start. Alternatively, if you have an adolescent dog and you need help training advice on loose lead walking, recall, barking and any other behavioural issues. Anything that cannot be handled via Video Call may need to be followed up with an in-person appointment too. 
---
Online Training Courses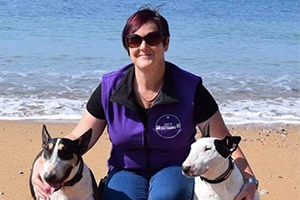 Kay offers a range of online courses including 'life skills online', perfect if you need a top up or you can't get to a physical class. These sessions are great for puppies, adolescents, rescue dogs, deaf dogs and older dogs.
Kay demonstrates her classes with her own 2 bull terriers, one of which was born deaf, making the course a really flexible option. You will learn all the basics you need to set your dog or puppy up for success in the real world. Exercises include walking on a loose lead, recall training, focus games, how to play with your dog, learning to drop, leave and settle on a bed, impulse control around food, doors and gates and much more.