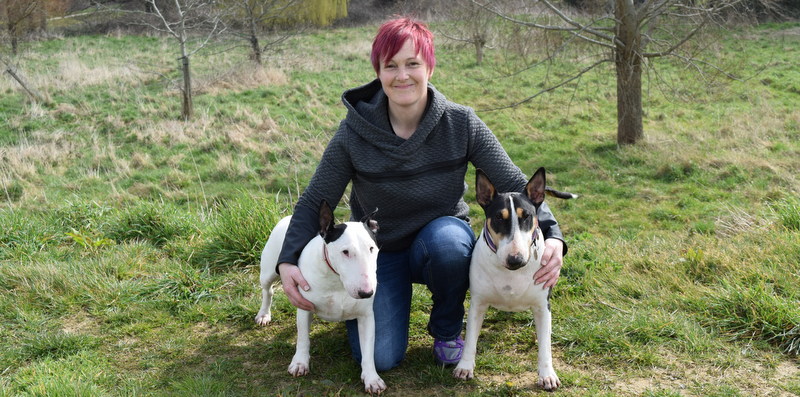 "A trained dog is a happy dog, and a pleasure to own".
Kay has been involved in dog training for over 10 years, having assisted other training classes, and attending them with her own dogs, and now runs her own courses focussing on positive reinforcement, building trust and developing engagement between owner and dog.  Having completed a number of courses over the years, including a canine psychology course at Kingston Maurward College, Kay is passionate about helping owners learn how to interpret their dog's emotions, read body language, identify triggers and develop stronger bonds to get the best out of their partnerships.
Kay has extensive experience working with a wide variety of breeds and has helped many dog owners with key behavioural issues such as unwanted jumping up, resource guarding, stealing food, excessive barking, pulling on lead, lack of recall, anxiety, nipping, biting and many more.
From a very young age, and growing up with horses, chickens, guinea pigs, dogs and cats (to name just a few), Kay has always had a natural affinity to work with animals, and it was only when she discovered that her own Bull Terrier puppy, Betty, was deaf that she realised she had a unique opportunity to learn and grow and help others with similar challenges with their pets. Together with her own dogs, Kay enjoys competitive obedience, fun agility and breed showing and has also completed the bronze, silver and gold Kennel Club Good Citizen Awards.
Kay is passionate about constantly growing and developing herself too which is why she continues to attend courses and workshops, which in turn enriches the dog training services she offers to her clients.
A successful dog training programme requires as much attention on the owner as it does on the dog's behaviour which is why Kay offers as many opportunities as possible for people to take part – whether it be in a 1-2-1 environment, puppy classes, group classes or on a social walk.
---
"I've had my 3yr old Doberman since he was a 7 week old terrified little puppy. He had been attacked by just about every dog imaginable by the time he was 6 months old. He suffers with chronic separation anxiety and severe fear aggression. We stopped walking him in public at about 2 years old, as he became too big and too strong to control. We tried trainers, a psychologist, a behaviour therapist and dietician to no avail. He's the most adorable boy at home (my sofa bear), so when Kay Joy approached me with new ideas, I was sceptical, but keen to try. He's now had 2 sessions and adores her enough to leave my side and work in a field with people and other dogs near by (whilst I watch in amazement)! He's by no means cured, but has made very significant progress. I actually have hope for him now Thank you Kay." – Tanya Gibbs & Merlin