Welcome to Kay 9 Dog Training
Run by Kay Joy, Kay 9 Dog Training is a Dorset-based business that works with owners and dogs to help them develop the key essentials for them to live happy, thriving lives and help them to overcome key behavioural challenges and bad habits that have developed over the years.
Our training is tailored to your needs – whether you need 1-2-1 sessions to help establish fundamental ground rules, or whether you are simply looking for opportunities for your dog to socialise more and have some fun (because training always needs to be fun!) – our sessions and group classes will give you what you need.
Kay is a qualified canine first-aider and believes in keeping herself updated with the necessary training associated with care for your dog.
Kay has experience in working with a wide variety of breeds, experiencing a wide variety of challenges and covers the Dorset, Devon and Somerset regions.
Thank you for visiting our website. We hope you find what you need. In case you don't, get in touch with Kay today.
---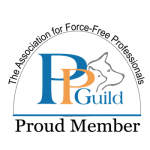 Kay is proud to be a member of the Pet Professional Guild