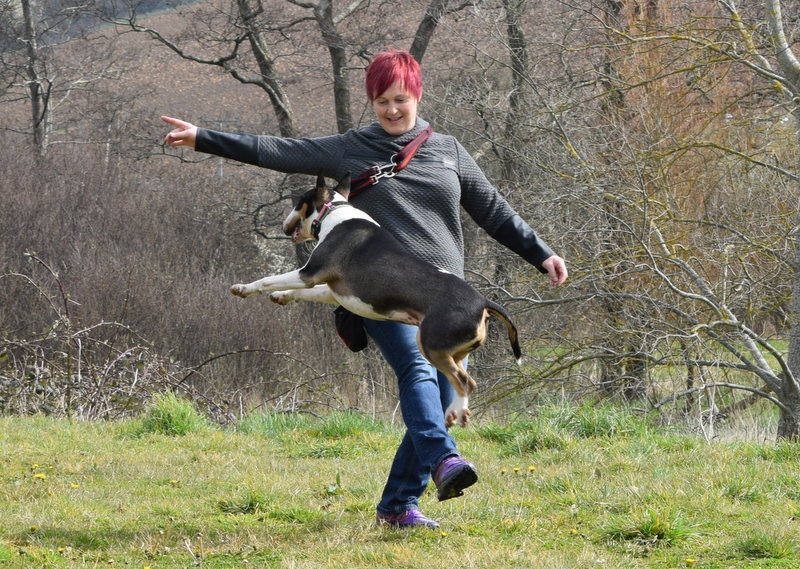 We are very proud of the fact that we helped many dogs and their owners overcome challenges that have held them back from reaching their full potential and enjoy fun-filled, happy lives. These are just a few owners who have benefited from Kay 9 Dog Training help.
Thank you to all of our customers who have trusted us enough, and allowed us in to your lives, to make a difference. We look forward to growing with you.
If you'd like to leave us a review – please visit our Facebook page here.
"Kay has been exceptional with our cocker spaniel – and us! She immediately understands what the pup needs, and is great at helping understand how we need to change our behaviour to encourage progress! Thank you." – Katy & Fia the Cocker Spaniel
"When considering getting a dog, I pictured myself and my new friend walking to West Bay for a cuppa somewhere, early morning walks in the woods and even holidays with family. I knew I could give a dog a brilliant life. I decided to buy a Yorkie due to fond memories of my Nan's dog Lucy, who was lovely.
So when the realisation hit me that I had managed to buy a dog with more issues than I ever could have possibly imagined, I was at a total loss, even to the point where I was not sure I could keep her.
Her problems included having a major fear of strangers and other dogs which presented through aggressive behaviour, handling issues including being very aggressive to groomers early on, a total hatred of travelling in a car, noise phobias e.g outside water tap and putting a new bin bag in the bin! She would even go mad if I put the washing out and so I was facing big problems inside and outside of the house, with no escape. I felt trapped by this small terrier !
I sought the advice of a behaviourist who was brilliant and many household issues became easier. However, due to my own fears about her behaviour I was still walking Betsy in very quiet places. At one point, even going out with my parents so that they could check around corners!! Life with Betsy was still very challenging.
Then Kay came into our lives….
We are now walking off lead in fields with Kay's fab dog Beryl.
We are now travelling in the car for short distances.
We are now walking past ponies and other dogs in a calmer way.
We are now taking part in training again.
Kay has helped me to enjoy my dog and to be positive. We are doing things that I never ever thought possible ! Betsy is always going to be a fearful dog, but with Kay's help, she is learning that the world is not so frightening. Kay keeps us moving on, we achieve one goal and then we move on to the next challenge.
I am so grateful to have Kay's support and so is Betsy!"– Carrie and Betsy the Yorkie
"I have 3 french Bulldogs all have their different training needs . I can't believe I haven't don't this sooner as I am now learning myself as well as my dogs. Having great results . Thank you" – Kelly and her French Bulldogs
---
---
---